Create Smart Invitation Pages
RSVP & polls for any event, big or small. Recurring events too.
Get everyone on the same page.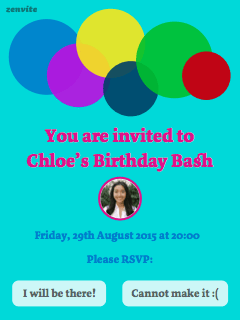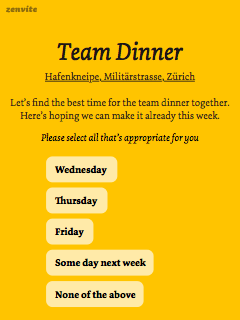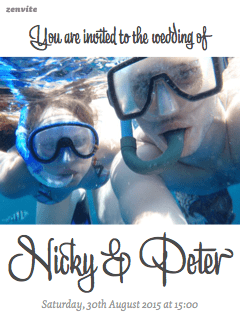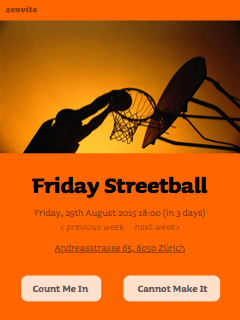 We are already working on the page samples.
Soon you will be able to zoom in and see all details.
How it works
Create a page

(free; no sign-up needed)

Invite people by sharing the link
Start receiving responses
Use Zenvite pages to…
Invite people and receive RSVP.
Capture registration data for events.
Schedule appointments and conduct polls.
Automatically remind everyone before each occurrence of a repeating page.
One-tap RSVP. A single tap or click is enough to respond. No need to sign up anywhere or to be member of a social network. Just enter your name for the first time. If you want to use your avatar and get notifications you can sign in with your email address, or via Facebook, Google, Yahoo, Twitter, or LinkedIn.
Recurring events with automatic reminders. You are reminded before each occurrence. Everyone just taps the RSVP buttons in the email and the results are immediately available on the page. You can easily skip or reschedule individual occurrences. Repeating can be modified and turned on & off any time.
Everyone's on the same page. All responses, the latest updates, and all comments are in a single place. The notifications and emails make sure everyone's updated and nobody forgets about it. You just have to invite people. The rest takes care of itself.
Sophisticated options. Pages come comfortably configured out of the box but you can fine-tune the settings whenever you need more. For example: hide responses and comments; specify the minimum and maximum number of participants; set up a response deadline; and so on…
Why Zenvite
Secure & Smart
No-compromise privacy. You can use Zenvite anonymously or with multiple identities.
You can restrict access to the page and hide data and content that are not for everyone.
Quick polls can help you find the date and place that's good for most people.
Notifications via email and in your browser.
Automatic reminders from repeating pages.
Advanced settings for special cases.
Better than Email & Messaging
Every response and all the latest updates are in a central place, not scattered around.
Start from great templates instead of composing emails from scratch.
Anybody can RSVP, without signing in to a social network or downloading an app.
Responding is just a single tap.
Use your contacts from Facebook, Gmail, etc.
Include custom questions.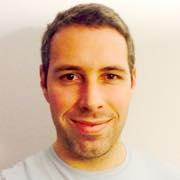 "We get an email every Friday and just tap 'Going' or 'Not Going'. Nobody forgets basketball anymore."
Marc, Senior Software Engineer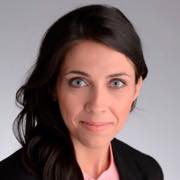 "Finally, I can organize everything easily, whether a simple appointment or a large event."
Aniko, International Administration Manager
Be the Most-Organized Organizer
Create a new Zenvite page whenever you need RSVP, polls, scheduling, or want to collect registration data for an event.
Organize events of all sizes:
meetings, appointments
conferences, workshops
sport events, trainings
parties, eating out
classes you give
weddings
etc.
Every page can be recurring. You can add new occurrences manually, or set up automatic repeating weekly, monthly, or in any other way.
Invite everybody.
About Zenvite
My name is Gabor Lenard. I started developing Zenvite to help my buddies with the regular organizing of basketball and soccer games, and when going to the cinema or ordering food to the office.
We wanted a fast & flexible web app that we can use anonymously without having to create yet another account. In which we can still sign in via social networks for convenience and integration. A web app that isn't tracking us and isn't gathering data about us. We wanted a web app that works fast even on unreliable mobile networks and doesn't drain our data plans.
We wanted something that stays around for years. That's why we rely on unobtrusive ads to pay for the hosting, instead of seeking investment and worrying about user growth rate. You can easily remove the ads from your page for a low price.
Animals by Balázs Gracza.
We are always grateful for comments & suggestions.